GATES OPEN 12 PM THU-SUN | SEP 28- OCT 29
SUMMARY
The center consists of two buildings, Agriculture Building East and Agriculture Building West. The Agriculture Center is perfect for boxing events, auctions, trade shows, exhibit shows, and meetings. Each building may be rented separately.
---
Dimensions: 61,000 sq. ft. (Full) / 32,000 sq. ft. (East) / 29,000 sq. ft. (West)
Ceiling: 24'
Floor: Concrete (East) / Asphalt & Concrete (West)
HVAC: Evaporative cooling
Power: Equipped with overhead trusses for 120 AMP electrical drops
Lighting: LED
Loading Access: Four roll-up doors on each side and three middle roll-up doors joining East and West
Cover: Metal
Restrooms: Attached to West building
Amenities: In-house PA, Office, First-Aid Center, Sinks
Special Features: Animal wash racks on North side of building
*Due to temperatures during the summer months, this building is not recommended for use between May through September.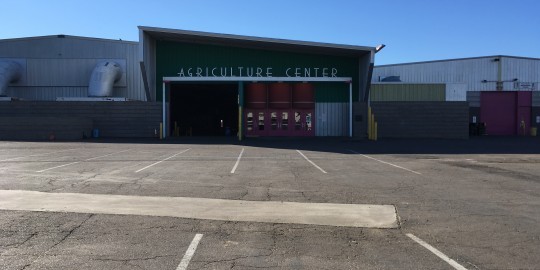 Venue Images
Book Your Event Or Speak To An Event Specialist At The Arizona Exposition And State Fair
FACILITY RENTAL APPLICATION
Once your application is received, one of our event specialists will contact you to determine how we can help you with your upcoming event.