GATES OPEN 12 PM THU-SUN | SEP 28- OCT 29
The Crew Makes It Happen.
See who our crew is below.
Evelyn B | Event Specialist
A Fair Fan since birth, Evelyn Bader is an event specialist extraordinaire that started her career in sports with the original Coliseum residents, the Phoenix Suns. Evelyn executes 50-60 events throughout the year, such as Crossroads of the West Gun Show, Maricopa County Home Shows, cheerleading and bridal events, just to name a few.
Clients attest to her passion for the Fairgrounds, as well as her deliberate thinking.  This adrenaline junkie at heart, Evelyn coordinates over 3,000+ entertainment credentials, and serves as a liaison between 100+ community stage entertainers during the Arizona State Fair.
When not riding the Titan, you might catch her munching on a strawberry funnel cake while strolling the midway, being careful not to get whipped cream on her radio.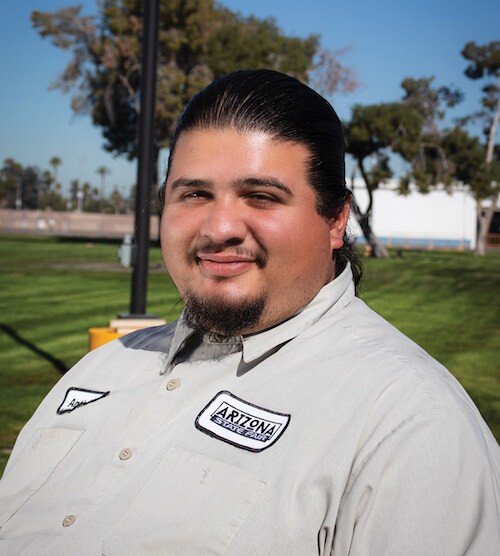 Anthony C | Operations Outdoor Supervisor
When you have a family of nine, there is no job too big or too small that could scare Anthony Correnti. As the Operations Outdoor Supervisor, Anthony leads the crew through the many events we hold at the fairgrounds year-round.
Aside from overseeing his crew, Anthony's ability to operate equipment helps put on the hundreds of banners we see throughout the fair! If you know Anthony, you know that a Pork Chop on a Stick with BBQ sauce and hot sauce is the best way to celebrate a hard day's work at the Arizona State Fair.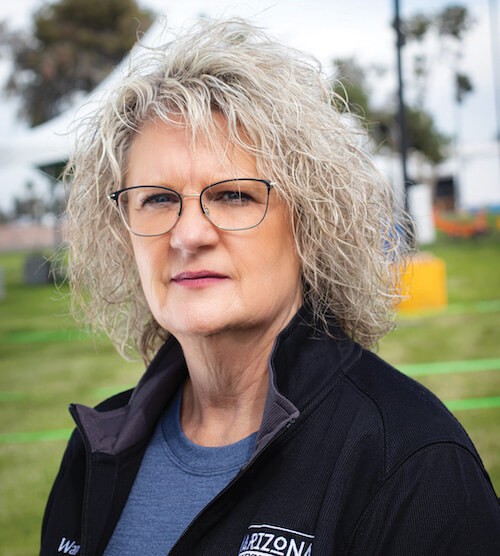 Wanell C | Executive Director
Starting as an intern in the Events Department, few people can say they've truly worked their way up the Ladder of Fun like Wanell. As the Executive Director since 2015, Wanell has led her crew through thick and thin and has achieved record breaking years. A legend in the fair industry, Wanell is the director fairgrounds dream of having. From the Maricopa County Home Shows to Crossroads of the West, Phoenix Roadrunners and the Phoenix Suns, the Pope and three Presidents, Wanell has helped maintain and shape this iconic venue for over three decades.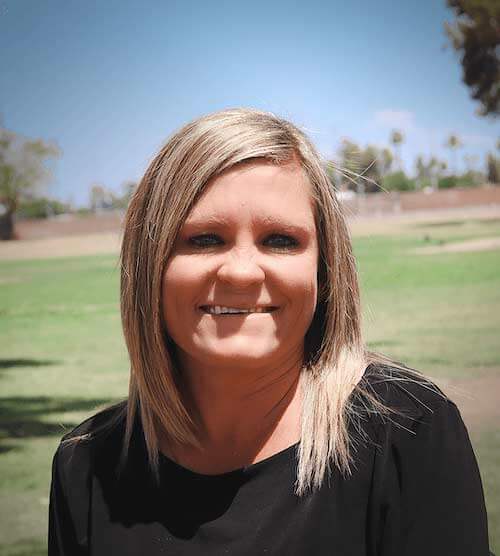 Heather H | Marketing Partnerships Manager
As a Marketing Partnerships Manager, Heather brings a wealth of knowledge and experience to her role, consistently driving innovative collaborations and generating impressive results. She thrives on building lasting connections and finding innovative ways to maximize the reach and impact of Arizona State Fair's mission.
Born and raised in Arizona, Heather's love for football runs deep, thanks to her family's unwavering support for the Arizona Cardinals. Heather's love for travel and exploration has led her family to make frequent trips to San Diego for their vacations. They relish the opportunity to soak in the sun, explore the beautiful beaches, and create cherished memories together.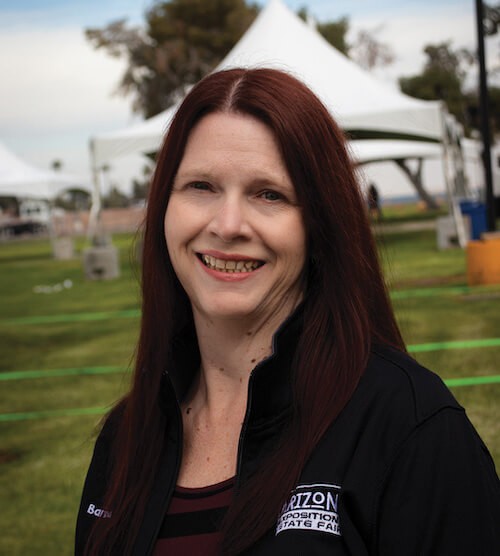 Barbara J | Commercial Sales Manager
Originally from Alabama, Barbara moved here in 2008 and loves the excitement of creating a family fun event for Arizonans to enjoy. In her role as Commercial Sales Manager, Barbara helps businesses showcase their goods, be it Hot Sauce to Hot Tubs or artisanal candles to street art. Each year she looks for interesting items for people to share inside our Shopping Pavilion and outdoors.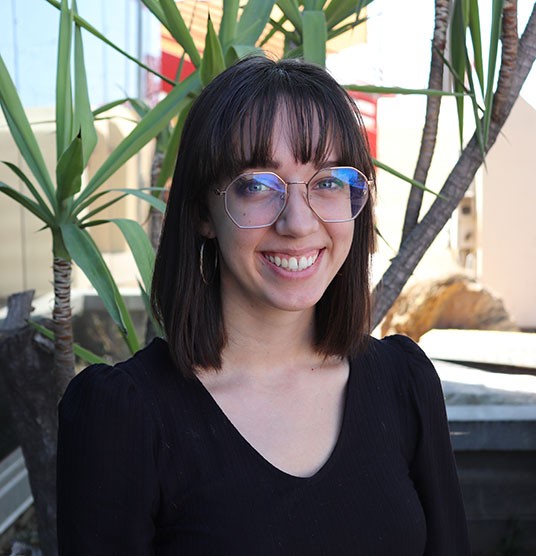 Naomi J | Graphic Designer & Print Shop Manager
Originally from Utah, Naomi is eagerly embracing the abundant sunshine of the Grand Canyon State. Armed with a Bachelor's degree in Fine Arts with a specialization in Graphic Design from Southern Utah University, Naomi infuses our team with her creative brilliance.
Beyond her design prowess, Naomi is a multi-talented artisan, indulging in a variety of crafts including knitting, cross-stitching, and painting. Her adventurous spirit knows no bounds, and she's excited to take on thrilling rides like the Slingshot at the State Fair, a new and exciting experience on her horizon.
Kari L | Accounts Payable Specialist
Like the smooth parts of her favorite ride, Carrie keeps the money flowing.  As both a member and prior Board Member for the Arizona Fairs Association, her knowledge of Fairs goes beyond numbers.  When she's not processing payments, you can find her off roading with her family.  Or in the water.  Someplace far away that fuels her passion for travel.
Brianda M | Marketing Specialist
From her start as a Marketing Intern to her current position as Marketing Specialist, Brianda can tell you a little bit about nearly everything at the Fair. And a lot about Marketing and Media.
As the Face of the Fair, Brianda acts as our spokesperson and publicist sharing stories about the latest Concert, Esports Tournament, winning bid at the Livestock Auction, latest sponsor promotion (which she probably helped create), the hottest Fair Food trend (Can we please get the Korean Corn Dog?). She'll jump on a ride for a 4:30 a.m. media hit, then turn around and facilitate concepts for the website. She'll also wave a parking flag for 5 hours while deploying and eblast her phone. From pre-dawn to the wee hours of the night, she averages 5 media hits daily during the Fair, all with a smile.
Part project manager, party idea generator, and wholly polished on camera (except when she fell at The Flaming Lips concert ((two years in a row)), Brianda's bright spirit, enthusiasm, and can-do attitude make her the ideal publicist for this Independence High School alumni.
Sierra M | Events Administrative Assistant
One of our Arizona natives, Sierra was born and raised in Buckeye.  Love of her family is a priority, and she fondly remembers all the years visiting the State Fair with them.  The Arizona State Fair feels like another family to her, and being a part of the group who makes it happen brings her joy.
Mariah M | Assistant Event Coordinator
After starting with the Arizona Exposition & State Fair as an Event Intern, Mariah's commitment to client service and community put her on track to be promoted to Assistant Event Coordinator.  She coordinates  events such as the Crossroads of the West Gun Show and VNSA Book Sale, and assists in curating and booking the  Community Stage and Fairground Entertainment.  Producing an event  that impacts millions continues to drive her thoughtful planning.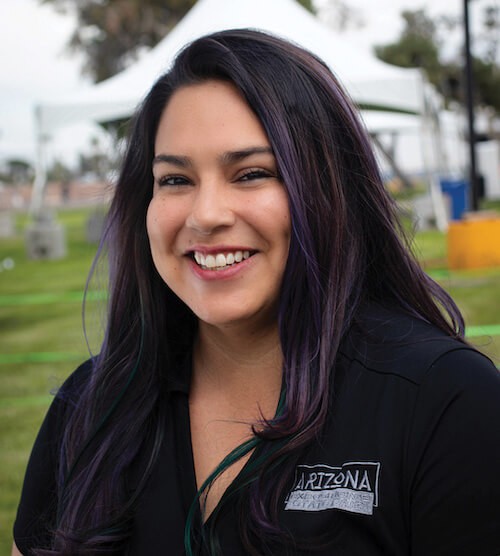 Aubrey M | HR & Staff Manager, Events Support
With a background in live events, Aubrey became an instant hit at the Arizona State Fair. She started in 2016 managing the event security department and now oversees the event staffing department. Managing over 800 seasonal employees is not an easy task, but Aubrey enjoys the energetic atmosphere and a fry bread on the side.
When not working an event or reading a book, Aubrey enjoys adventures with her kids.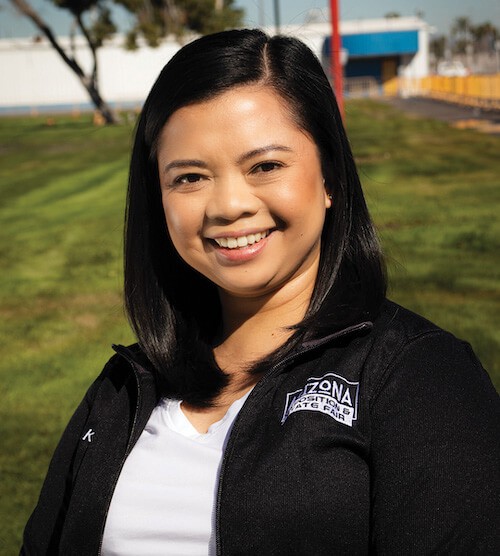 Krislyn P | Accounting Specialist
Hawaii's spirit of aloha lives on with Krislyn. After moving to Arizona from the Waianae Coast of Oahu 4 years ago, Krislyn quickly became an invaluable asset to the Fair Crew.
Initially hired as the HR Assistant, Krislyn's commitment to details, follow through and resourcefulness propelled her into the Entertainment & Event Solutions Department where she acted as the hub of events, from client communications, contracts, insurance and billings, managing Front of House in the Coliseum, to managing Etix – building shows/events, creating and scheduling various Box Office reports, and constant troubleshooting. Her drive for learning and background in finance recently promoted her to an Accounting and HR role.
Ane P | Digital Content Coordinator
Born in Southern California and raised in Arizona since high school, Ane is a proud Polynesian with deep-rooted family values. She holds a Bachelor's degree in Public Relations from Arizona State University's Walter Cronkite School of Journalism and is currently pursuing her Master's degree in Film and Media Studies. Ane's passions extend beyond academics, as she finds joy in picnicking by Tempe Town Lake and indulging in her love for food. A self-proclaimed foodie, she's eagerly anticipating the Arizona State Fair to savor a loaded Turkey Leg topped with nacho cheese and Hot Cheetos.
Brian R | Operations Department Supervisor
Brian's journey includes 12 years of unwavering dedication as both a Soldier and a Deputy Resource Manager for the Department of Emergency and Military Affairs, underscoring his commitment to serving Arizona.
Brian's profound connection to the state shines through in his cherished annual tradition of attending the Arizona State Fair. Remarkably, he managed to keep this tradition alive from 1980 to 1992 without fail. Now, Brian is thrilled to take his involvement to the next level, playing a hands-on role in the entire setup process of the Fair, continuing his unwavering commitment to this cherished event.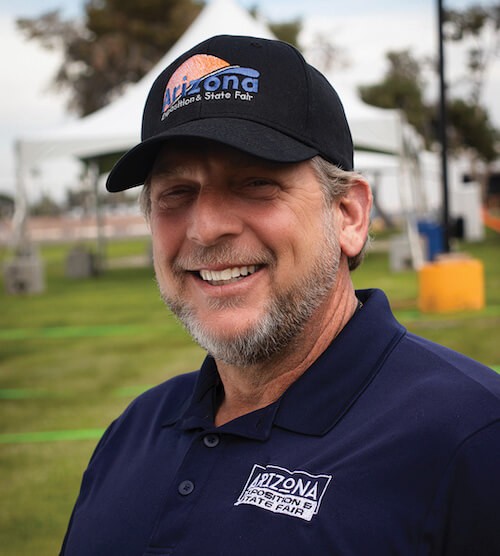 Mark R | Facilities Manager
Mark has experienced what few have – worked on the ice rink at the Madhouse on McDowell. As an Operations Supervisor, Mark works in tandem with the Operations Director of turning empty buildings and pavement into the dazzling Arizona State Fair.
Mark's focus is on Coliseum Operations, including the extensive load-in and load-out of the much-loved Arizona State Fair Coliseum Concert Series. His favorite concert to work was Slayer because of the custom made pit.
Outside of Fair time, his ability to operate all of our equipment and machinery and ability to adapt and create solutions to any situation makes him a versatile leader.
Irene S | CFO
With a career spanning 25 years, Irene has cultivated a profound understanding of the inner workings of the State, equipping her to excel in any functional area and collaborate with clients across diverse business sectors. Beginning her journey at the Department of Economic Security, Irene's passion for innovation was ignited as she tirelessly sought ways to enhance processes for both her clients and colleagues. A fervent advocate of continuous improvement, she harnesses data-driven insights to pinpoint opportunities, streamline operations, and deliver lasting results. Irene's commitment to an Agile mindset is palpable in her everyday contributions to the State Fair.
Beyond her professional life, Irene finds joy in quality time with her husband, four children, and four grandchildren. Whether it's cheering on the Arizona Cardinals, relishing the snow in Pinetop, or attending various events at the State Fairgrounds, family and adventure hold a special place in her heart. An annual highlight for Irene is the State Fair, where she eagerly satisfies her sweet tooth and indulges her extraordinary craving for junk food.
Lilli S | Marketing & Partnerships Assistant
Hailing from NoCal and growing up in a community where 4-H programs and Country Fair entries were a way of life, she learned the importance of community engagement and allowed her to be a natural fit at the Arizona Exposition and State Fair. She graduated from Grand Canyon University (GCU) with a degree in marketing where she developed a strong foundation in strategic planning, digital marketing, and partnership development. Her time at GCU provided her with the necessary skills and knowledge to thrive in the field.
Lilli's farm town upbringing, love for coffee, surfing, and passion for event planning (she spent a summer in Hawaii as an wedding planner), have shaped her into a well-rounded professional who approaches each task with enthusiasm and creativity.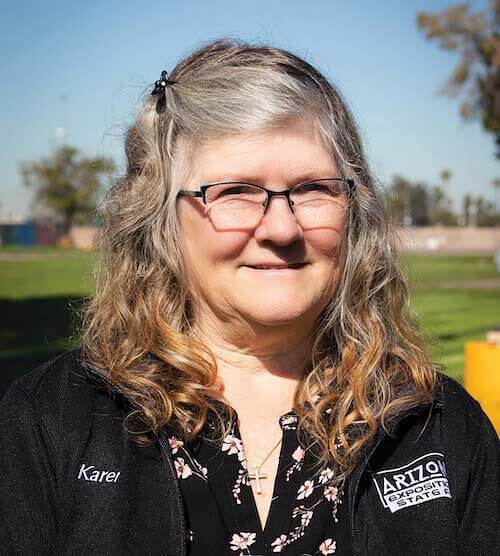 Karen S | Entries Director
With a contagious smile and far-reaching Fair knowledge, Karen's extensive fair experience and network in the Agriculture industry make her the perfect Entries Director at the Arizona State Fair. A California transplant, Karen has brought her passion back to Arizona where she oversees thousands of competitive entries – both livestock and exhibits – the Arizona State Fair receives each year. Think it's easy to bake a great apple pie, or grow a 187 pound squash? It's not. And with Competitive Entries being what differentiates a State Fair from a festival, the century long tradition of winning a blue ribbon is an achievement many seek yet few earn. Karen embraces her role, furthering the program across multiple categories, capturing new participants.
Michael S | Deputy Director
When it comes to fairs, Michael is a force to be reckoned with. You can find Michael's passion and dedication in every inch of the fairgrounds. A natural entertainer and as the biggest fair fan of the crew (we can bet on that), his time as the Deputy Director of the Arizona State Fair has been a breeze. With his vast knowledge and decades of experience of the western fair industry, the Arizona State Fair crew is being led by a fair legend.
When not working to make the fairgrounds a better place for all, you can find him in his pool with his wife, Karen, and his pups.
Kiersten S | Fairgrounds Support Admin
Kiersten is a lover of the arts.  Of entertainment.  Of PR and of sales.  Combine the things that make her happy with her positive energy, and you'll understand why she enjoys working at the State Fair.  She helps with varying projects and helps our guests get-in-the-know with all the cool things that make us the largest single event in the State.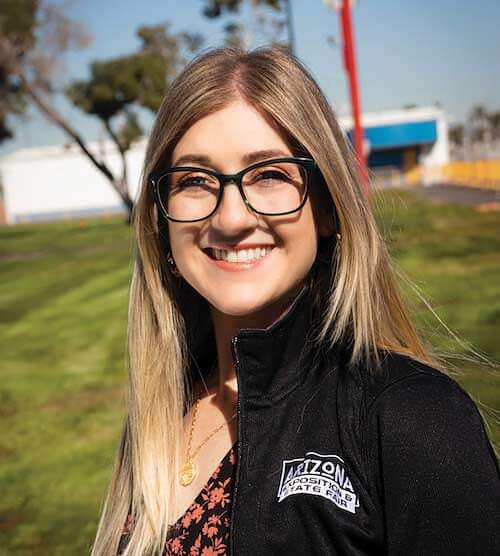 Meghann T | Event Specialist
Growing up in Peoria, Arizona, Meghann always loved the way the annual State Fair brought people together. After working in the hospitality industry, she recently joined the Fair Crew and is excited to be part of the team that plans one of the biggest events in the State.
Carrie W | Competitive Exhibits Coordinator
The San Diego County Fair is where Carrie fell in love with Fair Life.  Starting in elementary school, she and her family attended the event on the Del Mar Fairgrounds, fueling her love of animals.  In high school, she joined FFA and showed livestock.  Carrie was able to build on her passion and has been working in the Fair industry since 2007.  As the Competitive Entries Coordinator, Carrie wrangles all areas of Entries, from Livestock to Culinary to Art, and every creative nook and cranny in between.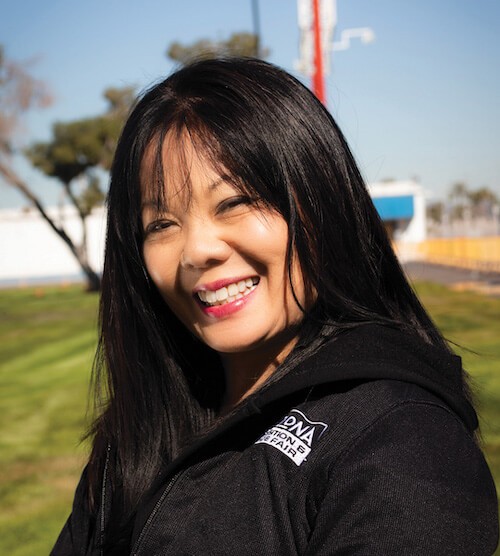 Jen Y | Assistant Executive Director
As an Arizona native who hasn't missed a Fair since birth, Jen believes that making memories is what the Fair Tradition is about. While at ASU studying Journalism, when working at an Ad Agency, and through her years in radio, the fun of the Fair (on a stick) has always been part of her life.
Jen leads the "best Marketing and Sponsorship Crew anywhere," creating ideas and solutions for audiences internal, external and otherwise. She also books and produces the Coliseum Concert Series, a dream from her teenage years. The sheer joy of watching someone giggling, dancing, and singing along to live music is what drives her to make every moment special. Jen is currently the Public Information Officer (PIO).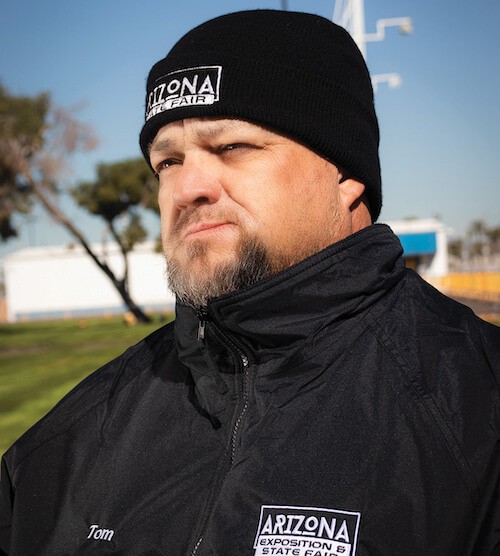 Tom Y | Operations Director
Few people know more about the Fairgrounds than Tom Youngs.
From his early days in 1994 as the Tomboni Driver for the minor league hockey teams Phoenix Roadrunners and Mustangs, the final years of the Phoenix Suns, through three Presidential visits, and over 3000 events, Tom can find his way around the 96 acres of Fairgrounds with his eyes closed.
Managing 150 Crew during the Fair and a significantly slimmer Crew outside Fairtime, Tom is the first call when you want to know where something is, what happened in what room when, and where the (insert item here) was from the 2009 Fair because we want to repurpose it and use it for (insert new attraction here). Or he'll offer other solutions to help solve whatever it is you're trying to do.