Make Delicious Fair Caramel Corn
It's normal to crave one of the tastiest treats we have to offer at the Fair. There's also no reason to wait! Try this Homemade Caramel Corn recipe from TasteofHome.
Ingredients
6 quarts popped popcorn
2 cups packed brown sugar
1 cup butter, cubed
1/2 cup corn syrup
1 teaspoon salt
3 teaspoons vanilla extract
1/2 teaspoon baking soda
Instructions
Place popcorn in a large bowl and set aside.
In a large saucepan, combine the brown sugar, butter, corn syrup and salt; bring to a boil over medium heat, stirring constantly. Boil for 5 minutes, stirring occasionally.
Remove from the heat.
Stir in vanilla and baking soda; mix well. Pour over popcorn and stir until well-coated.
Pour into two greased 13×9-in. baking pans.
Bake, uncovered, at 250° for 45 minutes, stirring every 15 minutes.
Cool completely. Store in airtight containers.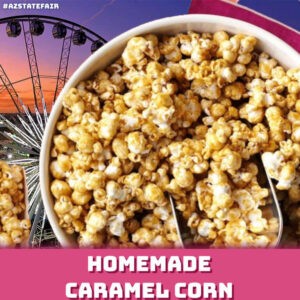 Share your pics with us once you've tried this on Instagram @arizonastatefair or on Facebook @azstatefair